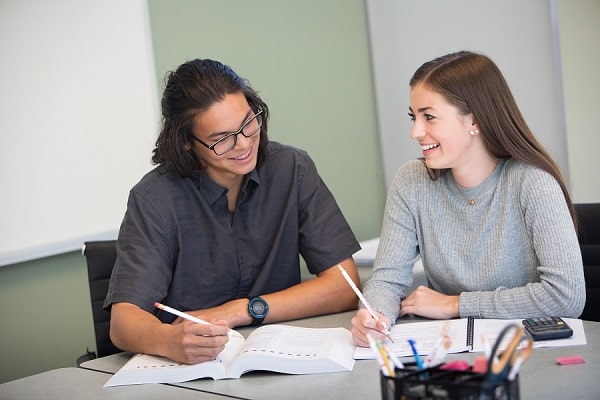 FLEX Tutoring
A set time to work on homework each week
Ask questions you have about the content or strategies
Complete more practice sets, receiving immediate feedback from a tutor
Work on your appropriate pacing through timed drills
FLEX Details
Offered Every Wednesday from 6-7:30PM
(1st & 2nd in Leawood, 3rd, 4th, and 5th in Prairie Village)
FLEX Sessions may be used within the allotted test date the student signs up for.
FLEX Tutoring can only be added to a plan – not an independent prep option
4-Pack (6 hours total) – $350
6-Pack (9 hours total) – $450
8-Pack (12 hours total) – $550

What Our Students Say About Us
We had a wonderful experience at Get Smarter Prep! Caleb explained the process and options. Our daughter set what we thought were realistic goals for the time we had before the next testing event. In six sessions with the amazing tutor Ashley, she raised her score 6 points!!! That far exceeded our expectations and we could not thank Get Smarter enough!
Sarah Pack
Shawnee Mission South Parent | Class of 2023
Your program/tutoring helped my son jump 3-7 points in certain sections!!! Really fantastic and such a great confidence booster for him! Also, such a testament to the program. This makes it possible, coupled with his awesome grades, to look at the schools he was interested in. We will share your name with others and really appreciate your guidance.
Megan Strout
Saint Thomas Aquinas Parent | Class of 2021
Our daughter Meha got 35 on her first try. She had 29 on pre-test with Caleb, worked with him for barely six weeks. She just started her junior year and we were certain we would be re-testing with more tutoring. Caleb's ability to work with kids is simply amazing!
Kamal Hatti
Shawnee Mission Northwest Parent | Class of 2023
The pricing schedule is worthwhile and reasonable. The truth is that the tutors care about our kids' success and they want their time teaching to bring relevant results. They're pulling for our kids. My son knew that and I'm convinced that support played a big part in getting across the finish line with great results. He is headed to the US Military Academy Prep School. Get Smarter Prep was a critical component to his journey, story, and future and we can't thank them enough.
Michael Tetu
Park Hill Parent | Class of 2023
Caleb did a great job and and my daughter got a 3 point increase on her ACT!!
Jo Gibson
Olathe West High School Parent | Class of 2022
My husband and I both work full time, and with four kids, our evenings were total chaos between homework, practices, and events. Homework was by far the most stressful part. Get Smarter Prep has lifted that weight off of our shoulders. We know our boys are getting the guidance they need, and our world is peaceful again!
Tamara Day
Blue Valley North Parent | Class of 2023