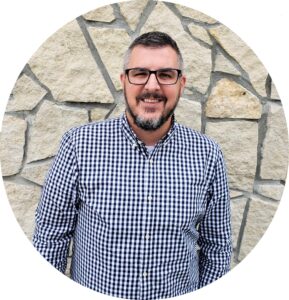 Caleb Pierce grew up in Denver, CO, where he attended John F. Kennedy High School (Go Commanders!). While in high school, he was a captain of the Varsity Baseball and Football teams, Senior Class President, played trumpet in jazz band, and involved in any and all activities his schedule would allow.
Leaving the comfort of home for college at MidAmerica Nazarene University in Olathe, KS – he sought to continue with both football and baseball, while pursuing his degree in Chemistry. Caleb loved his college experience, working both in the admissions department and as an Resident Assistant for three years. After graduation, he moved to Quincy, MA (home of John Adams, John Quincy Adams, John Hancock, and, of course Dunkin Donuts) where he worked at a small, liberal arts college and began his Master's. In 2007, he returned to Kansas City to work at his alma mater, and he earned a Master's in Enrollment Management shortly after joining the GSP team. Caleb has been married since 2006 and his wife, Molly, is a mental health therapist in Leawood, KS, specializing in anxiety disorders & working with adolescents. 
Caleb first stated at Get Smarter Prep at the beginning of 2012 but took on a new adventure ten years later in January 2022 when he purchased Get Smarter Prep. He loves working with such a talented group of tutors and staff members.
In his free time, Caleb loves spending time with friends over a cup of coffee or a good dinner out.  Caleb loves sports but limits himself to tennis and an occasional round of golf these days!  His love of athletics collides with his love of numbers and data, as he attempts to dominate his various Fantasy Sports leagues.
Caleb is available to work with students at our Leawood Office Mondays through Thursdays from 9AM-6:30PM, Fridays from 9AM-5PM.