When should I start preparing for the ACT? That's a great question and it's different for everyone for a multitude of reasons, but for this blog's sake, we are going to generalize when students should start the process.
There are a number of ACT test dates throughout the year, and some are closer in dates than others and can feel like they are back-to-back. Take the June and July test. These test dates are only 5 weeks apart. The state of Kansas offers the ACT to every public-school Junior on March 1st, but the next national test date is April 2nd. So, when should students start preparing for the ACT?
Students should start preparing for the ACT 4-12 weeks prior to the test date. That doesn't mean start mid-March for the April 2nd ACT. Three weeks of private tutoring is not a sufficient amount of time to reach your goals. Let's say a student wants to jump from a 21 composite score to a 25-26 composite score. Three weeks of private tutoring won't do it! Plus, that puts a lot of pressure on the student! Start preparing three months in advance so you won't have to rush, you can pick up the strategies your tutor is implementing, and you can fully understand the timing aspect of the test.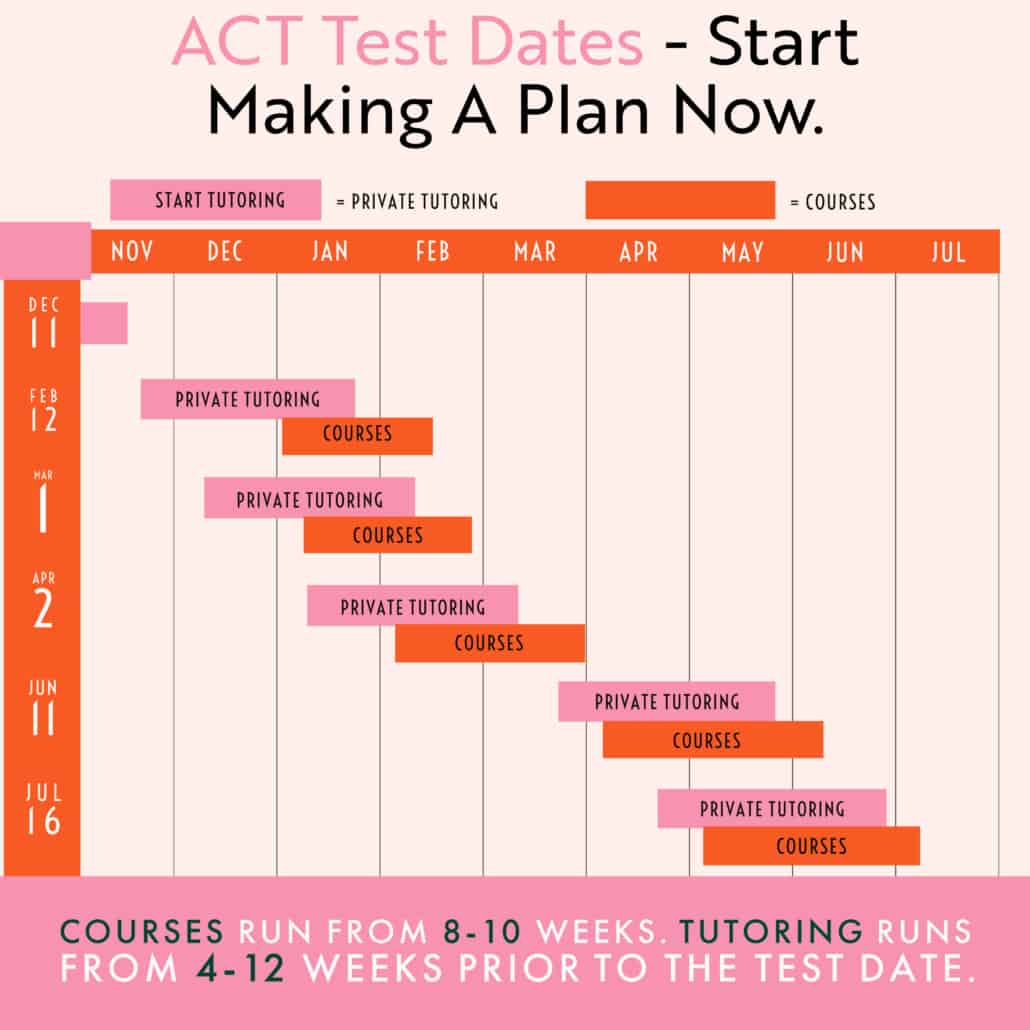 Prepare!
If you no clue what you might get on an ACT, take a free practice test. We offer them every Saturday morning! It's a great way to establish a baseline score and see what you might score on an actual ACT. Once you have a baseline score, our college experts can determine the amount of assistance you will need to meet your goals. For anything over a 4-5 point increase, a 12 week tutorial would be your best bet.
Our tutors understand that life happens and test dates sneak up on you. That's why we do offer shorter tutorials such as 4,6 or 8 week tutorials. We see excellent results with shorter tutorials as well, but if you can prepare as much as possible, why wouldn't you?
We also offer an ACT Prep Course. This course is designed for students who enjoy a small classroom setting (between 3-6 students) and feel comfortable learning with a other students scoring in a similar ACT range, specifically between a 19-26 composite score.
Bottom line: look at the ACT test dates that would be a good fit for you, decide on a date, take a look at the calendar and make sure you give yourself enough time to fit in a full tutorial (4-12 weeks depending on goals).